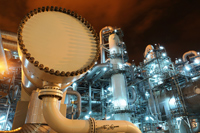 Established in 1996, TPL has been actively involved in Africa, the Middle East and South East Asia providing manpower and technical consulting services to the oil and gas industry. Included in our client list are some of the world's leading energy companies.
TPL's main business focus is in Manpower Services, Personnel Training and Development, Technical Services and Competency Assurance programs. TPL has a significant portfolio of experienced Training Consultants, Engineers, Technical writers and Operations personnel based in strategic locations worldwide and able to mobilize on short notice. TPL's global presence includes projects in Angola, Chad, Cameroon, Egypt, Indonesia, Papua New Guinea, Qatar, South Africa, UAE, Yemen and the USA.
TPL, although headquartered in Houston, USA, also has offices in the Chad, Libya, Qatar, UK and Papua New Guinea.