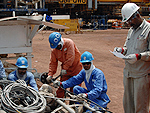 TPL provides services to support your organization on a number of fronts through:
Technical Documentation
Benchmarking
Learning Management System development, delivery and deployment
Consulting Services
Material Procurement & Logistics Management

Technical Documentation
TPL meets the technical documentation requirements of your organization through collaboration between your staff and TPL's Subject Matter Experts, Technical Authors and Editorial Staff. Whether you are developing your documents from scratch or updating existing literature, you are ensured a quality product as our staff is fully knowledgeable on current documentation standards and specifications.

Benchmarking
TPL benchmarking tools can assist you in identifying the relative strengths and weaknesses within your organization's training program structure, curriculum and delivery. The benefit of utilizing our expertise is realized through identification and delivery of tailor made infrastructure and program enhancements. TPL has worked extensively with training centers and providers around the world and are able to assist your organization towards achieving a center of excellence.

Learning Management System Development, Delivery and Deployment
TPL has a structured approach to Learning Management Systems (LMS) that begins with task analysis, whereby the required competencies for a given job function are identified and prioritized in the form of a roadmap. Migration of the roadmap into an electronic database format is the basis of a Learning Management System using a PC based LMS facilitates handling large amounts of data that can be viewed in real time by Training Coordinators and Supervisors wishing to track progress of staff through training programs, both regulatory and elective, in order to fulfill career path requirements.

Consulting Services
TPL provides support to your organization through provision of a range of consultancy services including:
Scenario based Risk Assessments and 'cold eyes' reviews of existing facilities.
HAZOP and Task Analysis Reviews. A review of Hazardous Operations (HAZOP), along with Task Analysis is the key to identifying and prioritizing your organization's training and competency assurance programs.
Environmental Impact Assessments.
Training Project Management.
Operations and Maintenance support services.
Training Center Management, Supervision, Coordination and Administration.
Provision of all levels of training staff responsible for dealing with day to day counseling, monitoring and progress reporting. This is particularly beneficial when your organization wishes to maintain close links with trainees attending remote educational establishments.
Cultural Awareness. Having a workforce that is sympathetic and understanding towards cross cultural differences is essential in today's global workplace. TPL facilitates the transition of your staff across cultures ensuring effective communication and delivery of your organization's business objectives.

Material Procurement & Logistics Management
TPL realizes that procurement and logistics management is central to achieving and maintaining your organization's objectives of quality, on-time and on-budget. TPL can provide expertise and quality of service at each and every step of the procurement and logistics management process; from determination of needs through to requesting, ordering, delivery, auditing and payment. Our goal is to develop an environment where customer satisfaction is paramount. This is achieved through the synergy of our specialists being well versed in the latest software and international business practices along with having excellent communication and organizational skills.