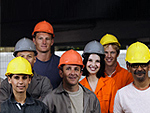 TPL addresses the manpower needs of your organization in three distinct ways:
Supply of TPL Contract Personnel.
Evaluation / Assessment of your Existing Employees.
Recruitment of permanent staff to your organization.

Supply TPL Contract Personnel.
TPL is able to provide a range of experienced personnel on short or long term contract to suit your business needs. Advantages in using TPL to meet your manpower needs are:
Personnel are contracted on an as needed basis.
Personnel are subject matter experts in the required disciplines.
Personnel have access to shared resources such as non-proprietary TPL developed training materials.
Minimal administration burden as issues such as travel, visas, work permits, expenses, taxation and medical insurance can be taken care of by TPL on an as needed basis.
TPL supplies experienced personnel so as to meet the requirements of your organization in a wide variety of disciplines including:
Process / Operations Technicians
Maintenance Technicians (Electrical, Instrumentation and Mechanical)
Technical Instructors
English Language Instructors
Safety, Health and Environment Instructors
Computer / I.T. Instructors
Workplace Mentors and Assessors
Curriculum Developers
Training Coordinators
Training Center Managers
Technical Authors
Engineers (Chemical, Civil, Electrical, Mechanical)
Senior Level Managers
Control Room Panel Operators
TPL guarantees the performance of its personnel; if the individual does not perform as well as can be reasonably expected then TPL will identify and resource a suitable replacement at no additional cost to your organization.

Irrespective of whom we supply, TPL goes through the following recruitment process in order to assure that the individual has the necessary skills and experience required to meet the objectives of your organization.

Evaluation / Assessment of your Existing Employees
TPL has the skills and expertise to assess your existing employees in the workplace with a view to determining if there are any gaps in knowledge or skills. Utilizing this process allows your organization to maximize the effectiveness of your training budget and prioritize and target training towards only those that need it.

Personnel Recruitment
Whether you are looking to bring in a trainee or an experienced employee to your organization,
TPL can assist you in the recruitment process. TPL can assist your organization by:
Defining competencies based on job description and task analysis.
Handling administration issues surrounding advertising, candidate response packages, applications and gathering of resumes, references and certificates etc.
Candidate testing using internationally recognized technical test batteries or professional employee selection testing.
Candidate selection and short listing.
Interviews based on knowledge, skills and behavioral attributes against organizational requirements.
Providing training in areas of cultural awareness and project orientation.